How to Set a World Record in the Mile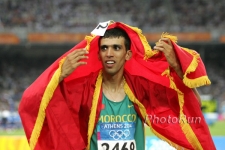 February 13, 2014
Record breakers increasingly run even splits; Hicham El Guerrouj's Mile WR nearly perfectly paced
By Amby Burfoot, Runner's World
Historically, there have been two distinct ways to pace a one-Mile race. The inexperienced run the quarter-mile laps like this: fast, slower, slower yet, stagger. It doesn't take them long to realize there must be a better way, or perhaps to quit running and switch to curling.

Champions follow a surprisingly similar pattern to the three-quarters mark. Research published five years ago by South African running savant Tim Noakes, M.D., revealed that many world records in the Mile have been set with a per-lap racing strategy of fast, slower, slower yet, faster.

When he dug into 32 world-record Miles (by men, over more than 100 years), Noakes found that only two were run with the last lap being the slowest of the four. By contrast, in 24 record races, the last lap was either the fastest (12 times) or the second fastest (12 times).
Continue reading at: www.runnersworld.com