Hundreds of Webster fourth graders run Mile in annual tradition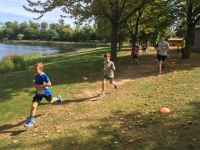 September 25, 2017
"Maybe one of those kids will get inspired by running in the big cool race and go on to become the next local, regional, USA or world star."
By Victoria E. Freile, Democrat & Chronicle
One by one students lapped the pond at Webster's North Ponds Park.
Some children sprinted, some jogged and others walked. No matter the manner, more than 700 Webster Schools fourth graders completed the Mile course Friday morning.
The annual event, in its 52nd year, is as much a tradition among Webster Central School District students as it is a rite of passage.
The Mile run kick starts the academic year and "brings 700 students together," said Kevin Sayers, a physical education teacher at Plank Road North Elementary School. He has coordinated the annual event for the past decade.
The children are separated into five heats and over a 30 minute span, lap the park.
The idea is to encourage children to be active, how to be a competitor and spectator and to encourage good sportsmanship, empathy and camaraderie among students, Sayers said.
The race also introduces children to a Webster park — and other locations within the community — where kids and their families can go to be active, Sayers said.
Continue reading at: www.democratandchronicle.com