IAAF Run 24:1 to celebrate Global Running Day with Mile races in 24 cities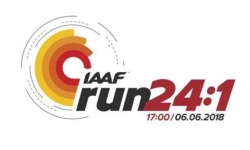 May 14, 2018
"Running is accessible to everyone, it is fun, it is competitive. It can be social, it can be solitary. It is testing, it is personal but most of all it builds strength, stamina, fitness & health. It is the mother of all sports." - IAAF President Sebastian Coe
From IAAF
The IAAF has announced the creation of IAAF Run 24:1, a series of 24 one Mile runs that will be contested around the world to celebrate Global Running Day on Wednesday, June 6.
Partnering with sports ministries, city governments, race organizers and member federations around the world, the IAAF initiative incorporates races to be held in two dozen cities across 15 time zones that will each start at the same local time to create a 'simultaneous' worldwide celebration of running.
IAAF Run 24:1 will commence at 5:00pm local time (GMT +12) in Auckland, New Zealand, then, outrunning the sun, cross Oceania to Sydney, enter Asia in Tokyo, move to Europe in Minsk, into Africa in Addis Ababa, and cross the Atlantic to the Americas in Sao Paulo and Buenos Aires before the day's final race in Vancouver on Canada's west coast. In all, IAAF Run 24:1 will include stops in 23 countries, uniting tens of thousands of runners around the world.
"Running is accessible to everyone, it is fun, it is competitive," said IAAF President Sebastian Coe. "It can be social, it can be solitary. It is testing, it is personal but most of all it builds strength, stamina, fitness & health. It is the mother of all sports.
"On Wednesday, June 6th, we want as many people as possible to celebrate Global Running Day – the biggest annual celebration of running."
As the main facilitator of the project, the IAAF will also assist with around-the-clock coverage of the event on a dedicated website to be launched in the lead-in to the event, as well as across its various social media platforms.
Each race will be headed by a designated 'City Captain', a former or current athlete who will lead local efforts to spread awareness of the initiative and to involve their respective running communities.
Celebrating its third year in 2018, Global Running Day is a grassroots initiative where people of all abilities and from all paths of life come together to celebrate their passion for running and inspire others to get moving.
"We are looking forward to the world coming together to run on June 6 to celebrate Global Running Day, which encourages people of all ages and abilities to live active lifestyles," said Michael Capiraso, President and CEO of New York Road Runners and a founder of Global Running Day. "There are countless ways people around the world can take part in the day's festivities this year – from these 24 one Mile runs to a virtual race – in order to embrace running as a way to get healthy and fit."
To participate, find the host city nearest to you to learn how and where to join IAAF Run 24:1. See you on June 6th!