In the Footsteps of Alan Webb, Virginia Runner Wins Foot Locker Cross Country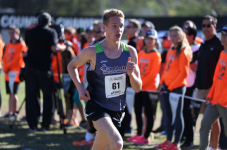 December 14, 2015
Drew Hunter, who calls Mile legend Webb a "great mentor," dominates the boys race at the national championships in San Diego.
By Pete Magill, Runner's World
Drew Hunter, a senior from Loudoun Valley High School in Purcellville, Virginia, entered Saturday's Foot Locker Boys Cross Country National Championship as the overwhelming favorite, and he wasted no time establishing the pecking order.
After allowing Philip Rocha of Arcadia (California) High School to lead for the first 400 meters, Hunter shot to the front of the pack and opened a lead that grew the rest of the way to the finish line. Hunter improved on his fourth-place finish last year at Foot Locker to claim his first national cross-country title in 14 minutes, 55.7 seconds. Rocha was second in 15:07.9, with Carmel (Indiana) High School's Ben Veatch close behind at 15:09.6.
"That was the plan," said Marc Hunter, Hunter's father, of his son's early break. "Drew's strength is his strength. We knew if he went with a hard pace from the get go, it would be an easier win versus a kicker's race. We thought he could win a kicker's race, too, but we didn't want to leave it to chance."
Continue reading at: www.runnersworld.com