In their words: The race that stopped a nation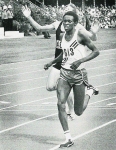 January 31, 2014
Some say it was the greatest middle-distance race ever contested by one of the best fields for a major competition: 1974 Commonwealth Games 1500 meters. This is their story.
By Michael Brown, New Zealand Herald
THE BUILDUP
The track and field meeting burst into life on the opening day in Christchurch when Dick Tayler won gold for New Zealand in the 10,000m and continued with a series of top performances in the 800m, 5000m, 3000m steeplechase and marathon.
But there was tremendous excitement as the field lined up for the 1500 meters, a field that included three medallists from the 1972 Olympic Games - Rod Dixon (bronze in 1500m), Ben Jipcho (silver in 3000m steeplechase), Mike Boit (bronze in 800m) - as well as England's Brendan Foster, who won bronze in the 1500m at the 1970 Commonwealth Games, top Australian Graham Crouch and 1980 Olympic 5000m silver medallist Suleiman Nyambui and John Walker and Filbert Bayi.
Continue reading this terrific look back at history: www.nzherald.co.nz