Irish Mile legend and Olympian Ray Flynn looks back on his storied career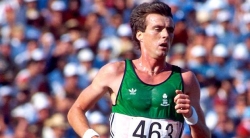 July 05, 2017
"I wasn't afraid I would die; I knew I was dying."
By Cathal Dennehy, Independent.ie
For those who suffer through the sadistic challenge of a sub-4 minute Mile, there is a sound that offers hope, which arrives as both a sweet reprieve and a call to arms in their time of despair. It's the sound of the bell signalling one more lap to run and Ray Flynn will never forget hearing it in Oslo's Bislett Stadium in July 1982.
"We went through [1200m] in 2:51 and it energized me," remembers Flynn (right), who turned 60 earlier this year. "I thought: 'wow, this is great, now it's time to just do it.'"
The Mile, of all events, is perhaps the most thorough examination of an athlete. To master it requires a sprinter's acceleration, a distance runner's endurance, a chess player's strategic nous and an extraordinary tolerance to suffer and tolerate pain.
Next Friday marks 35 years since that Oslo evening when Flynn joined the event's super-elite, the Longford native overruling the scream of fatigue with 300 meters remaining in the Dream Mile and accelerating past Olympic champion John Walker, aware that sometimes you have to bet big to win big.
Continue reading at: www.independent.ie