Is this Nick Willis' last, best chance for Wanamaker Mile title?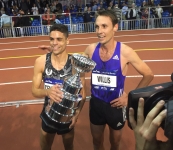 January 12, 2018
Sixth time a charm for two-time Olympic 1500m medalist at upcoming Millrose Games?
By Chris Chavez, Citius Mag
The 2018 Wanamaker Mile fields were released on Tuesday and the headlining match up from the New York Road Runners' press release was Eric Jenkins defending his title against Nick Willis, who is still seeking his first victory in his six chance at the iconic race, set for Saturday, February 3.
"I've run the Wanamaker Mile five times, and come third twice, and second three times," Willis said. "I still am yet to get the victor's trophy. At 34, this may very well be my last chance to win this historic race, so I have put a huge focus of my training to make this happen. I love running in New York, and The Armory was the first track in America that I ever raced on, at the National Scholastic indoor meet in 2001. I can't wait to come back and attempt to execute the perfect race."
Father Time sometimes has a way of catching up to people on the track but there are exceptions of stars who continue running well late into their 30s. Willis could be one of those guys but he's approaching it with the mindset that there may not be that many sub-3:55 Mile races, which has been needed to win the race in recent years, left in his legs. But could this also be his easiest chance yet? Let's be clear nothing in track comes easy and tactical races can lead to wacky results. If we judge these athletes by stats, let's take a look. Also remember that what happens in previous races has no impact on what happens on race day because there's just so many factors (training, injuries, travel, etc.) that can go wrong. This is just an interesting exercise.
Willis has finished no worse than third but walked away as the race runner-up three times.
Continue reading at: citiusmag.com