Jenny Simpson Returning to New Balance Indoor Grand Prix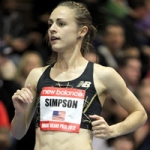 December 04, 2014
2011 World 1500m champion and two-time Olympian to compete in 2 Mile at Boston meet on February 7, 2015
BOSTON - Jenny Simpson, the most-decorated woman at 1500 meters in U.S. history, is the first athlete set for the 2015 New Balance Indoor Grand Prix, organizers have announced.
The New Balance Indoor Grand Prix, which will celebrate its 20th running on Feb. 7, kicks off an indoor season in which Boston will be the epicenter of track & field in the United States: The city will also host the USA Indoor Track & Field Championships, from Feb. 27-March 1.
Both events will be held at the Reggie Lewis Track and Athletic Center at Roxbury Community College. Tickets—including money-saving packages for the two meets—are now on sale at www.nbindoorgrandprix.com or by calling 1-877-849-8722.
Simpson, 28, is the 2011 World champion at 1500 meters, and she followed that up with a silver medal at the 2013 World Championships. The two-time Olympian, eight-time national champion and former U.S. record holder in the 3000m steeplechase returns to Boston as one of the top 1500m / Mile women in the world after winning the 2014 Diamond League title with a crashing dive across the line for victory at the Diamond League final in Zurich. Jenny was recently honored as the 2014 USATF Jackie Joyner-Kersee Athlete of the Year.
"The New Balance Indoor Grand Prix is always a fun chance for me to peek at my own fitness and face some really incredible competition," said Simpson, who competed at this meet for the first time in 2005, as a prep athlete in the Junior Invitational Mile. "The fields are good, the crowd is loud, and I have a lot of history there. I can't wait to return to Boston again this year."
Simpson will again run the 2 Mile. She will, however, be hoping for a better result than last year, when she miscounted laps, unleashing a furious kick one lap early and coming to a near stop at the bell. Had she not erred, she would have almost certainly set a new U.S. mark for the distance instead of finishing second, in 9:26.19. The women's U.S. record for 2 Miles indoors (9:23.38) was set by Regina Jacobs at this meet in 2002.
As always, Simpson addressed the situation with poise and good humor. "3200/200=16," she tweeted soon after the race. "Yes kids, algebra is important to learn for your everyday life. This is a public service announcement."
Now in its 20th year, the New Balance Indoor Grand Prix has played host to seven World Records and 11 U.S. Records. The second stop in the 2015 Indoor USATF Championship Series, the meet on Saturday, Feb. 7, will begin at 4:30pm.