Jenny Simpson: Street games an 'incredible celebration' of athletics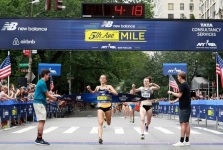 September 10, 2016
"To take my sport, put it out of the stadium and on to the streets where literally thousands of people who can both cheer for us but also participate in it is such a great way to celebrate our sport."
By Athletics Weekly
Rio Olympic 1500m bronze medallist Jenny Simpson believes it's vital for athletics to continue to capitalize on the popularity of its street events after enjoying yet another season-ending victory in New York.
Simpson, the world 1500m champion from 2011 and first ever American female to win a 1500m Olympic medal, has become accustomed to success at exhibition events on the road at the season's climax, with victory last Saturday at the New Balance 5th Avenue Mile being the fifth time she has taken the title.
As the eighth edition of the Great North CityGames approaches, an event the American competed at in 2012, the spotlight in Britain is again thrown upon the unique atmosphere athletics can create when taken from its more familiar confines of a 400m track in a stadium and spread across a more accessible landscape.
Unsurprisingly given the regularity of her participation in such events, Simpson is an advocate of street athletics and believes the format is crucial for the sport to enable it to widen its fan base and engage with new people.
"I competed in a Great CityGames several years ago and so I have experience of that event and it has a very similar feel to the 5th Avenue Mile. These sorts of events are really critical to growing and connecting with the fan base of our sport," Simpson said.
Continue reading at: www.athleticsweekly.com