"Join the Movement" Membership Opens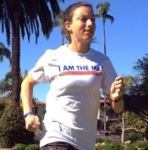 April 10, 2012
"I AM THE MILE" wristbands, limited edition 3:59 t-shirts and more; free shipping & handling for Lap 3 membership in honor of Roger Bannister
SANTA BARBARA, Calif. – (April 10, 2012) – Bring Back the Mile has announced that its Mile Maniac "Join the Movement" Membership program has opened offering exclusive Mile gear including "I AM THE MILE" wristbands and t-shirts. For inaugural BBTM "Join the Movement" Lap 3 and Lap 4 members, there will be only 359 limited edition "I AM THE MILE" t-shirts with 3:59 on the left arm sleeve in honor of Roger Bannister, the first man to break 4 minutes in the Mile.
"The Mile Maniac in all of us now has red, white & blue Bring Back the Mile gear to proudly wear and to showcase their love and support of the Mile, America's distance," said Ryan Lamppa, Bring Back the Mile Founder. "The limited edition "I AM THE MILE" t-shirt could become a collector's item."
In the coming months, Bring Back the Mile will expand its product line as well as opportunities for Mile Maniacs to participate in the national campaign to replace the 1600 meters with the Mile at the high school level.
Bring Back the Mile Membership Levels
LAP 1 – Free
Official Mile Maniac & Member-Only perks

LAP 2 – $3.59
Previous lap, plus "I AM THE MILE" Wristband

LAP 3 – $35.94*
Previous laps, plus limited edition "I AM THE MILE" T-Shirt with 3:59 on left arm sleeve

LAP 4 – $359
Previous laps, plus exclusive Mile invites and VIP opportunities
*20% t-shirt discount equivalent to free shipping & handling for Lap 3 thru May 6, 2012 in honor of the 58th anniversary of Roger Bannister's historic first sub-4 minute Mile.
Bring Back the Mile also recognizes Paul Wegner, the first Mile Maniac to "Join the Movement" when BBTM was launched on January 19, 2012, and the first woman to sign-up, Anne Audain, Olympian, world record setter and running legend. Both original BBTM supporters will receive a Lap 3 member package.
To become a Bring Back the Mile Maniac member, go to: http://bringbackthemile.com/jointhemovement
The Mile holds a special place in Track & Field and beyond because no running distance, or field event for that matter, has the history, the appeal, the "magic" of the Mile. The first sub-4 minute mile by Great Britain's Roger Bannister in 1954 is regarded as the greatest individual athletic achievement of the 20th century, and no other event has produced an equivalent of the sub-4 minute Mile standard in the sport, in the media and in the public's mind.
Unfortunately, the Mile has lost some of its luster over the past decade, and the Bring Back the Mile mission is: To return the Mile to prominence on the American sports and cultural landscape by elevating and celebrating the Mile to create a national movement.
Contact milemaniac@bringbackthemile.com for more information.