Kampf to Defend KPMG Bermuda Invitational Mile Crown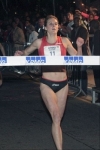 January 17, 2014
Men's Mile field wide open, new champion will be crowned
By Colin Thompson, Royal Gazette
A new KPMG Bermuda Invitational Elite Mile men's champion will be crowned Friday tonight.
Julius Bor, last year's winner, has not returned to defend his title.
Among the pre-race favourites to claim the Kenyan's vacant title is compatriot Phillip Lagat, the 2011 winner, and Zambian pair Jordan Chipangama and Harry Mulenga.
Chipangama finished third in last year's event while Mulenga, the Fairmont to Fairmont champion, is among those making their debut in the annual spectacle.
Bermuda will be represented in the men's Elite Mile by Shaquille Dill, Tre Simons and Chayce Smith.
Reigning women's Elite Mile champion Heather Kampf, of the United States, one of few survivors from last year's race, is also back to defend her crown.
And she is again expected to face fierce competition from compatriot Sarah Brown, who finished runner-up last year. Flying Bermuda's banner in the women's Elite Mile is Tamika Williams, who finished fifth in a personal-best time of 5:06.34 last year.
Continue reading at: www.royalgazette.com