Katelyn Tuohy eyes 2020 U.S. Olympic Trials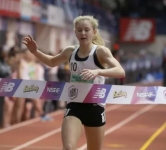 March 21, 2019
Her coach Brian Diglio thinks there is little to be gained by the top female high school runner competing for North Rockland after next Fall
By Nancy Haggerty, Rockland / Westchester Journal News
Katelyn Tuohy has worn the red & white of the North Rockland running programs since joining winter track as a 7th grader.
How much the nation's top female high school runner will continue running for her high school remains a question given her future ambition and accomplishments to date.
Tuohy, a junior who turned 17 on Monday, has decisions to make, said Brian Diglio, her head cross country and winter indoor coach.
Those decisions center on Tuohy's desire to qualify for and run in the June 2020 U.S. Olympic Track & Field Trials, either at 1500 meters (her preferred distance) or 5000m, an event in which she set the national indoor girls junior (under 20) record last year.
The question is whether continuing to run high school track – especially next winter and spring – will help or hinder that goal. Diglio thinks there's little benefit in doing so.
"She's accomplished basically everything you'd want at the high school level," Diglio said. "I think, at this point, if she wants to improve as a runner in terms of not only time but the strategy of racing, she needs a high level of competition she's not getting from high school."
Diglio said his thoughts were "clarified" while watching Tuohy beat several pro racers in finishing third at 3000 meters this January in the Dr. Sander Columbia Challenge at The Armory.
She set a U.S. high school girls indoor 3000m record for a standard-size track at that race. Tuohy, who typically leads high school races from the gun, was forced to run a lot from the outside after failing to gain the rail, an apparent sign of her inexperience against seasoned runners.
Continue reading at: lohud.com