King's king of the virtual Brooklyn Mile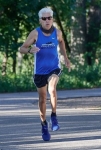 June 29, 2020
Boulder resident, 61, clocks sub-5 minute Mile at altitude, producing top and only Level 10 VDOT time of all participants
By Michael Sandrock, Daily Camera
Dan King came jogging up a quiet street in East Boulder early Saturday morning, June 20 with a spring in his step, a face covering around his neck, and a confident gleam in his eyes.
He was there as part of the virtual Brooklyn Mile, a nationwide event designed to give competition-starved runners a reason to race. The event included a prize-money pool while also raising funds for COVID-19 relief, and King was glad to contribute to a good cause.
King's other reason for stepping on the starting line, however, was to run faster than 5:00 for the Mile at altitude as a 61-year-old, and in the process better the U.S. over-60, Mile road record.
"I'm ready," the retired telecommunications entrepreneur said to the half dozen other runners and a handful of bicyclists on hand to watch his record attempt. King, a member of the Athletics Boulder running club, certainly was ready to have a go at pushing back the boundary of what older runners can do. In a solo effort, King clocked 4 minutes, 57.3 seconds, faster than the U.S. road record of 5:12.
The race organizers used a VDOT 02 system, based on the work of physiologist Jack Daniels, to age grade the results and thus "level the playing field." According to Matthew Rosetti, co-founder of Brooklyn Running Company, the race organizer, King's effort was the only "VDOT Level 10" performance turned in during the three-day event, which drew nearly 700 runners from 19 countries. His altitude-adjusted time was 4:52.0.
To put that in perspective, Rosetti said a 25-year-old would have to run a sub-3:51 Mile to post an equivalent Level 10 score. As the only Level 10 scorer, King was awarded more than $600 in prize money.
"Look at it this way," said Rosetti. "Dan had the 84th fastest time, but he was singled out because of the VDOT age-grading. It is almost a democratization of race results, and it is great his performance was unearthed. When we posted it on the Masters boards, people doubted it" because it was so fast.
Although King's sub-5:00 was nearly 15 seconds faster than the official American road record, it will not be recognized as a new record because his solo race wasn't sanctioned and run on a course certified by USA Track & Field, the governing body of the sport in the country.
"I felt great," said King, who now has his sights set on the M60-64 world outdoor track record for the Mile. He will get a shot at this record Aug. 15 at the Music City Distance Carnival in Nashville, Tenn. The meet is scheduled to take place without spectators, eight competitors per event, with COVID testing and temperature testing required. There, King will get to race other Masters (over age 40) head-to-head as he looks to better the 4:51.85 Mile world record time from 2012.
Continue reading at: dailycamera.com