Legendary Coach Frank Gagliano Continues to Inspire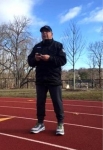 February 02, 2017
Three HOKA NJ*NY Track Club coached athletes entered in famed Wanamaker Mile at upcoming 110th NYRR Millrose Games
From NYRR
NEW YORK – If 55 years of coaching track & field have taught Frank Gagliano anything, it's to keep going.
The legendary coach, now in his seventh year at the helm of HOKA New Jersey-New York Track Club (NJ*NY TC) has three athletes competing in the NYRR Men's Wanamaker Mile at the 110th NYRR Millrose Games on Saturday, Feb. 11 at The Armory's New Balance Track & Field Center.
Rising Mile stars Kyle Merber, Johnny Gregorek and Colby Alexander were recently announced as participants in the signature event of the NYRR Millrose Games.
But for the coach affectionately known as "Gags," the new year came with a few important changes and a resolve to keep doing what he loves.
"As long as my mind is in the sport for workouts, so I don't deprive the men and women that I'm coaching, I'll keep (coaching)," Gagliano said. "I try to keep as healthy as I can and we move on."
Gagliano will turn 80 in March. He got his start at Roselle Catholic High School in New Jersey and had a long distinguished college coaching career at Rutgers and Georgetown before becoming a professional coach for post-collegians.
Last year, 16 members of the HOKA NJ*NY TC qualified for the U.S. Olympic Trials and steeplechaser Donn Cabral made the Team USA and competed in the Olympics in Rio de Janeiro.
In November, the club got a shot in the arm when HOKA ONE ONE became the exclusive sponsor of the NJ*NY TC. Suddenly, the endless burden of fund-raising to keep the club running was eased. And the home base has moved, from Dunellen, N.J. to Dobbs Ferry, N.Y.
Gagliano lives nearby in Rye, New York. And his two assistants, Tom Nohilly and John Trautmann are also close by.
"(The move) has been really great because we all live within five miles of each other in Westchester County," Gagliano said. "We can come in (to The Armory) on the morning train. It's been a pleasure."
The club lost some athletes and added some new ones for the next four-year cycle, and Gagliano's energy and expertise still drives the group.
"I've got to want it and they've got to want it to achieve their goals," Gagliano said. "All of them are college graduates and they've all given (me) four years."
Go to NYRRMillroseGames.org to learn more about the NYRR Millrose Games and to purchase tickets to the February 11 meet scheduled for noon to 6:00pm.