Liquori, Miler-Turned-Musician, Taking Life in Stride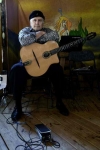 July 18, 2014
"Playing a guitar is not a talent any more than running the Mile is a talent. It's about work and taking a scientific approach to things and progressing."
By Noel Neff, GainesvilleObserved.com
There was a time when the world knew Marty Liquori for his legs and feet, which for a memorable decade in the 1960s and '70s zipped him around tracks faster than just about any other human.
Today, however, Liquori is better known for his hands and fingers, which hold and strum a jazz guitar as well as anyone in North Central Florida.
Call it Marty Liquori's second wind.
"I consider myself retired and pretty much a full-time musician," said Liquori, who has also been an Olympian, an entrepreneur, a broadcaster, an author, a lecturer and a leukemia survivor.
He's also been a Gainesville resident for more than 40 years.
Recently, Liquori leaned back on a comfortable couch at the CYM Coffee Co., not far from his northwest Gainesville home. For an hour, he talked about the local jazz scene, his glory days of running and the charity work that remains dear to him.
At 64, Liquori is at the heart of the area's jazz scene, not only performing three nights a week but also serving as vice president of the Gainesville Friends of Jazz and executive director of the Gainesville Jazz Festival, which recently marked its 14th year.
Continue reading at: http://gainesvilleobserved.com