Looking In On…Stephanie Charnigo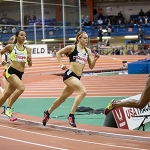 February 24, 2015
"The main goal for spring will be to obtain the World Standard and gear up for the USA Outdoor Championship."
By New Jersey / New York Track Club
Stephanie Charnigo's career began at Buckeye High School in Medina, Ohio and would continue at the University of Findlay, where she would garner multiple Division II All-American certificates. This indoor season, she opened up with a Mile personal record of 4:31.78 to win the New Balance Games. She followed that up with a 2:02.66 at the Armory Invite 800m. Then her 3:14.3 1200m leg at the New Balance Indoor Grand Prix got the team's Distance Medley Relay off to the right start, as they would go on to run 10:42.79 for a close 2nd, and finish 8 seconds under the previous World Record. This past weekend, she would finish 3rd at the NYRR Millrose Games Wanamaker Mile in yet another PR of 4:28.02 (her first sub-4:30). Steph has no intent on slowing down so it's time everyone gets familiar. We sat down with her to talk about training, racing and running for the New Jersey / New York Track Club in what is now her 4th year.
Congratulations on what has already been a tremendous indoor season for you! What's coming next?
Thank you! Next up is USA Indoor Champs - looking forward to returning to the Reggie for a great meet. Gags and I are still deciding which race would be best to run.
You started off the season with a win and personal best at the New Balance Games. It can be hard to open up as well as you did, what do you attribute that to?
The New Balance Games was a nice way to open the season with a win and personal record, but it felt more like a glorified NJ-NY practice. We ran some solid workouts leading into this race, so I was excited to line up at the Armory and get a better gauge of my level of fitness. I was fortunate to have four teammates in this race, which made for a very comfortable feeling at a familiar venue. My teammate, Heather Wilson, did an excellent job setting a smooth pace for 1200m, and Ashley Higginson really helped press in the final 400m. I credit a lot of that race to these ladies, as they did most of the work!
Continue reading at: www.njnytc.com