Magical Olympian Mile: Brad Barton Oldest to Go Sub-4:20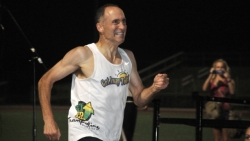 July 14, 2014
Misses age-group world record by just 1.5 seconds.
By Ken Stone, Times of San Diego
Brad Barton is a 48-year-old father of five, living with his wife in Ogden, Utah. He makes a living as a keynote speaker at corporate events. He performs magic to reinforce his points.
But it was no illusion what he did Wednesday night in Chula Vista. Competing at Olympian High School, he became the oldest man to break the 4:20 Mile barrier.
His time was 4 minutes, 17.54 seconds.
"What we saw tonight was greatness," said Paul Greer, meet announcer and himself a sub-4 Miler. "One of the best masters performances ever — at least in San Diego."
Continue reading at: timesofsandiego.com