Making the Most of Your Mile: Big River Festival of Miles presented by Under Armour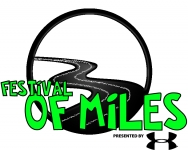 May 29, 2012
Community, food and fun in St. Louis
By Bring Back the Mile
ST. LOUIS - 2012 marks the fifth Big River Festival of Miles presented by Under Armour. Taking place at St. Louis University High School on Thursday, May 31, festivities begin at 6:30pm with the GO! St. Louis Healthy Kids Mile and is capped off with the MoMileSplit High School Miles and St. Louis Track Club Elite Men's Mile.
We spoke with race director, Ben Rosario, who also serves as the Marketing Director for McMillan Running Company, on the beginnings of the Festival of Miles, their commitment to giving back and creating a fun community event for all.
BBTM: What inspired you to host the Festival of Miles?
Ben: On New Year's Eve in 2007 St. Louis University track standout Brigette Schutzman was badly injured in a car accident. She was in a coma and the doctors did not think she would make it. I knew the coaches at SLU well and we thought it would be great to host a meet in her honor since she was a track girl and not simply put on another road race.
The track and stadium at the Saint Louis University High School was recently renovated and it was beautiful. We held the meet in April that first year and had Junior High Miles and Elite Men's Mile, a Masters Mile, and even a Wheelchair Mile.
By the time the meet came around Bridgette had blown away the doctors' predictions and had even begun walking. She was able to make it to the track that night and took a couple steps for the crowd. We raised $8000 for Brigette's family that first year.
BBTM: Why the focus on the Mile?
Ben: The Mile is such a draw to the average Joe Jogger, even people who never ran Track in high school. It is how we all measure everything we do. It is something we can wrap our heads around.
BBTM: You have since continued the giving tradition...
Ben: Yes, unfortunately a St. Louis University High School athlete was paralyzed from the waist down a couple months later, Mike Rathmann. We decided to not only host the Festival of Miles again to raise money for the Rathmann family, but also created a Festival of Miles Foundation. It is now an annual event with ticket sales going to an athlete in need.
We've raised over $18,000 for the Rathmann family and this year's proceeds will go to benefit the family of Chris Lister who sustained serious injuries after being struck by a car while on a run. His story particularly affected the running community since it is something that can happen to anyone on any run. Chris is luckily showing signs of recovery.
BBTM: How has the charitable aspect helped draw people to the race?
Ben: It initially drew people to the meet. Runners in general are very giving people and the St. Louis community is fantastic.
BBTM: Although you pride yourself on creating an event that people simply want to be at, tell us about the festival atmosphere.
Ben: Fans are coming back now because the meet is so much fun. It has grown every year and we are expecting over 1,200 people this year.
The thing about track meets is that they are long, which kills it from the spectator's perspective. Those types of meets certainly have their place for participation and to be athlete-centric, but for us we looked at it from the spectator side. It's a short two-and-a-half hour meet and we also decided to begin holding it on a Thursday night. We did not want to go up against everything else during the weekends this time of year such as graduations and noticed that weekday meets work in Europe.
So, school gets out, parents get off and work and we have this wonderful fitness-centric event for the entire community. When fans arrive the first thing they'll notice is that the music is blaring and it never quits. As soon as they walk in they'll enter the Under Armour Fan Zone, which this year will include a 25 meter dash for the kids to race each other on.
Doug Klein, a Festival of Miles Board Member, comes out and puts on a fantastic BBQ. He's a BBQ wizard. Doug is a great story since he wasn't even a runner until his son started running Cross Country.. That led him to quit smoking and join in on the Big River group runs. He's a contractor and his company, KleinCo., helped build all three Big River Running stores. He's your typical Dad, but a passionate community member.
Since the track is sunken down, people in the Under Armour Fan Zone can still see the race. It's a nice intimate setting. I think we can learn a lot from the MLS in creating loud, intimate settings. Our event is not enormous, but it is standing room only and we do our best to keep the fans very involved. We put out athlete bios, videos and more online. We also have a nice meet program and prediction contest for the fans. This gets people invested and we get to create stars out of the athletes. Our track announcer is also always explaining what is going on and keeping the crowd excited as well.
BBTM: You've been very successful with engaging sponsors. Can you tell us a little bit about the relationship with them and the event?
Ben: We have an advantage with the charity piece, but the sponsors also do it because they see it as a great PR opportunity. A lot of companies want to be associated with the runner demographic. We also take care of all the little things, such as thank you's and really involve them from day one.
BBTM: What about the difference in hosting a track event versus a road race for sponsors?
Ben: It's nice because the sponsors get mentioned over and over, there are logos on the barricades and throughout the stadium in an intimate setting. It's really great exposure for the companies.
BBTM: GO! St. Louis, which puts on a series of fantastic events themselves are very involved with the Festival of Miles? What got them involved?
Ben: The Mile is a great way to get people started and introduce them to the sport and running. GO! St. Louis is a year-round fitness organization and the partnership has been wonderful. They sponsor the Healthy Kids Mile and Junior High School Mile races.
They bring out their big finish line arch and the kids love going under that. And what else is great about a track event is that the young kids get to race and then stick around and meet the Elite racers. Kids get hooked on the real tangible idea of getting faster in the Mile year after year.
BBTM: MoMileSplit.com is sponsoring the High School All-Star Miles. Will they be hosting video, results, etc. for people around the country to check out?
Ben: MoMileSplit.com is one of the best State high school websites in the entire MileSplit.com network. Our information is up there and they will indeed be hosting the videos for all to watch later that evening after the festival concludes.