Making the Most of Your Mile: College Avenue Mile

June 05, 2013
By Bring Back the Mile
The College Avenue Mile is put on by the Garden State Track Club (GSTC) and takes place on Saturday night, June 8, in New Brunswick, NJ. In its second year, this great community centric event will host for the first time the Royal Rumble One-Mile and Two-Mile Relays along with a family friendly heptathlon, which includes a dunk tank, tug-o-war as well as a beer and BBQ garden among other activities.
The GTSC's mission is to provide direction for competitive runners of all levels, and to foster the future of New Jersey running by providing support to underprivileged young runners throughout the state through their Essays 4 Equipment program. More than just a running club, GSTC provides training opportunities for all Track & Field events in New Jersey with its headquarters in New Brunswick.
BBTM sat down with Club President, Chuck Schneekloth, who spends his days as an English teacher and Track coach from Metuchen, to discuss this unique Mile in New Jersey and what motivates the GSTC. The New Jersey representative for the Road Runners Club of America (RRCA), Chuck has master's degrees from Rutgers and UC Berkeley. As a Rutgers Scarlet Knight, he was a four-time All-Big East half-miler with personal bests of 1:52.80 for 800m and 4:18.5 in the Mile. As a track coach in Oregon for Seaside High School, he was voted into their hall of fame for being the youngest coach in the state of Oregon to have won a state title.
BBTM: What was the impetus for the College Avenue Mile?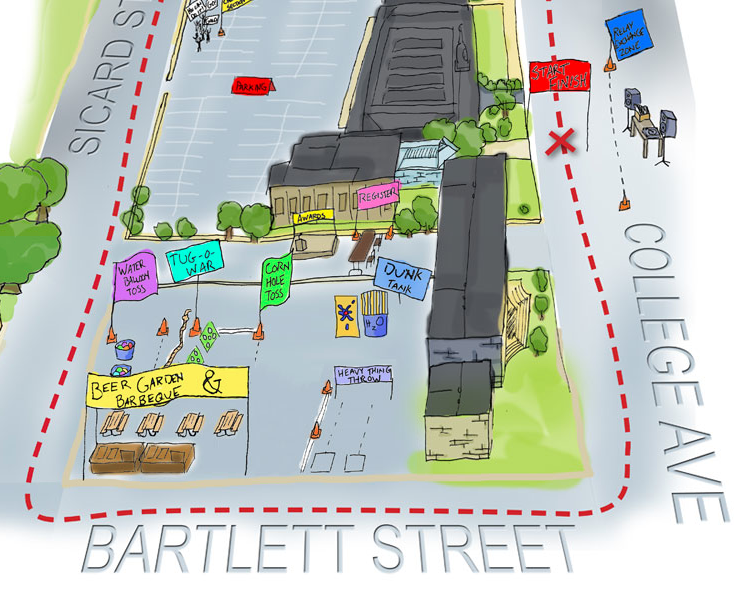 The Garden State Track Club operates with a leadership board that makes decisions democratically and a couple of years ago when we were thinking about how we want to contribute to the running community the Mile was a hole we felt needed to be filled in the New Jersey running community. There are a gazillion 10Ks, millions of 5Ks, but there isn't really a road Mile. A handful of folks said, 'hey let's do this'. Of course we had no idea how much work it would take.
Last year was our first year and we had a lot of planning meetings leading up to it, but with any event a lot comes down to trial-and-error. In year one we had it on a Sunday morning and this year we said, 'you know what, let's make it on Saturday night because that would be cool'. And we also thought, 'let's have a beer garden because that would be cool'. Our club is very willing to evaluate reforms that need to take place, making data based changes from what we learn. We made a bunch of these changes based on the data we collected last year.
From the looks of your website, GSTC seems to like to have a lot fun. You host the Gorilla 5K and encourage costumes. A family-friendly Saturday night event seems natural. Is it all about having fun?
Yeah, that's right and I'm remise for not using the word 'fun'. A big part of the underpinning of how we think is that we really like to train hard, but we're younger and at times a more competitive Club, but in the end we just like to have fun with the sport. Training hard doesn't mean that you don't have fun. People suggested that we should have dunk tank this year, which costs a couple of hundred dollars, but hey that does sound like a lot of fun, so we added it. Making it fun is a big element with our events.
I lived in the San Francisco Bay Area for many years and being involved in the Bay to Breakers and the Run to the Far Side, the Gary Larson 5k that went on. It really moved me in terms of recognizing that are so many other ways to enjoy the sport then just your standard 5k for a grand prix. I think I have been influenced greatly by the Bay Area and wanted to bring back the lens that I see the sport through now.
For year two you added the Royal Rumble Relays with unique categories like 'dating' and 'married'. How did this come about?
That was one of the things that was a data driven decision. A lot of people said hey, 'I'm not going to drive x amount of miles just to run one Mile'. Point taken and we decided that people needed more bang for their buck, so we created a second race, the Mile relays, which actually mirrors a winter race that we do here. The two biggest categories that people have signed up for with their teams have been the dating and the married categories. There are also lots of father / son & mother / daughter teams as well. There is something special about experiencing running with a loved one and the relay captures that.
How is registration going in the second year?
We're ahead of last year and have been fortunate to also receive youth grants, which is subsidizing youth entries. This is really nice because were able to partner with youth programs to bring in their kids for free.
You also seem to have good sponsor relationships. How does this impact the youth support mission of the Club?
It certainly is representative of the relationships our Club has with the New Brunswick running community. Our leadership recognizes the importance of these relationships, especially for a non-profit volunteer staff, when we all have full-time jobs outside the Club. Proceeds of our events and the help we get from our sponsors help us with our charity program 'Essays for Equipment'. A lot of people on our team really enjoy this element of the Club.
We also ask participants of our events to hand in new or gently used equipment and we provide them with a discounted entry for doing so. After the events we have conversations with high schools and youth teams around New Jersey to have those in need submit their stories to us, which in turn provides them with better equipment than they may have. You have these great kids, but it can be an additional $100 or $200 to show up to practice or race with the right equipment. People say, 'well these are used shoes', but we should understand that there are kids running out there in high tops and could drop three seconds in his 400 if he had the right trainer, let alone the right spike. We've partnered with a few teams and its been working out great.
Thanks Chuck and good luck Saturday night!
Thank you.