Marin Warner Ready for NYRR Millrose Games HS Mile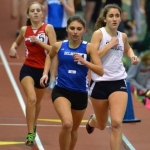 February 04, 2014
"Being invited to the Millrose Games is such a great honor and I couldn't pass it up."
By Brian Deakyne/For The Star-Ledger
Holmdel's Marin Warner (right, in blue) was one of three New Jersey girls invited to run the Mile at the NYRR Millrose Games on Feb. 15 last week.
On Friday, Warner announced that she would run the Mile at the legendary meet in New York. Her participation will forfeit her opportunity to run in the State Group Championships (Feb. 15) or Meet of Championships (Feb. 22).
In what quickly became her final indoor meet of the winter season in New Jersey, the Holmdel junior made it count at the NJSIAA Central Jersey, Group 2 sectional championships at the Bennett Center in Toms River on Friday night. Warner captured two gold medals and broke a meet record in the 1600 meter run in 4:55.09.
"It's a big accomplishment for me," Warner said. "I first broke five (minutes) in the 1600 last year, so it's really nice to do it again."
Continue reading at: http://highschoolsports.nj.com