Marty Liquori Profile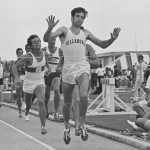 January 07, 2015
From Racing Past
Marty Liquori in full flight, still viewable on the Internet, has to be one of the finest sights in competitive running. He appeared on the running scene in 1967 as the third American high-schooler to break the 4 minute Mile. The 17-year-old from New Jersey was only seventh in the Bakersfield, California, race and finished 8.7 seconds behind the winner Jim Ryun, who broke the world record with 3:51.1. Within two years, this talented runner was defeating Ryun in major races. Under the coaching of Jumbo Elliott at Villanova University, the dedicated Liquori quickly emerged as the world's top 1500 runner in 1969. A fierce competitor, Liquori looked a sure bet to dominate the 1500 for many years. But this never happened. His harsh training schedules and frequent indoor competition led to a string of injuries that kept him out of some major competitions. And although there were many really fine performances throughout the 1970s—he was the world's #1 over 5000m in 1977—Liquori never quite fulfilled his early promise, and he ended his long career without a major title.
Schoolboy
Marty Liquori grew up playing baseball (as a catcher) and basketball. On entering high school, he dreamed of becoming a basketball player. To get in shape for basketball, Liquori followed the coach's wish and ran cross-country to get in shape: "At last I'd found an activity where I could work as hard as I pleased, where I could control my future and my success or failure." (On the Run, p. 89) Showing running talent, Liquori quickly switched from basketball to running.
His high-school coach, Fred Dwyer, a 4:00.8 Miler and Villanova graduate, believed in the killer attitude, a runner's concept that had been promoted by Australian coach Percy Cerutty. This attitude required hating your opponents. Dwyer soon had the young Liquori believe in this concept. Before races he would not speak to anyone, not acknowledge greetings and not shake hands on the start line. "Some people thought I was nuts," he wrote in his book On the Run. "I guess many of them thought I was some kind of animal." (OTR, pp. 92-3)
Liquori now admits that he became obsessed with running in the early stages of his career. He wanted to break 4 minutes while still in high school, he wanted to make the 1968 Olympics as a teenager and he wanted to be the world's #1 by the time he was 19. It says a lot for both his natural talent and for his determination that he achieved all three goals.
Coach Dwyer
A lot of credit for Liquori's early development must go to Fred Dwyer. With the intuition of a good coach, he was the first to see talent in a nondescript Liquori: "Marty? Oh skinny. Obscure. I hate to use the word nonentity but he was close to that." (OTR, p. 116) Then he knew how to bring out that talent by challenging the teenager until Liquori "actually hated" him. Dwyer told the newcomer Liquori that he wasn't strong enough to run the Mile, so Liquori responded the following summer "by running 70 miles a week along the beaches of the Jersey shore." (OTR, p. 116) Dwyer still didn't let him run the Mile and began to belittle Liquori's group with teasing and name-calling. While some runners quit, Liquori responded in the way the coach had hoped by taking up the challenge in anger. Eventually in the middle of his sophomore year, he was allowed to run a Mile and clocked 4:18, a state record. His progress in his junior year was slowed by a foot injury; he improved only five seconds to 4:13.2.
Liquori's training in his senior year was already heavy, between 70 to 80 miles a week. In a 2006 interview with Runner's World he stressed that the most important weekly session was his weekly15-mile Sunday run. Here is a week in his training log (April 30 to May 6), a couple of months before his first 4-minute Mile in 1967: Sunday 15 miles; Monday 10 miles; Tuesday 7 miles; Wednesday 14 miles-weights—swim; Thursday 15x300--8 miles; Friday 20x300—5 miles; Saturday 20x300—8 miles. His log also shows that he didn't take a day off training in May until the 29th, four days before a big Mile race (4:01).
After a hard winter's training, he suddenly dropped his mile time from 4:13 to 4:04.4 and headed to California to break 4 minutes. In Compton he got close (4:01.1) and in San Diego he got closer (4:00.1). Then, missing graduation ceremonies back home, he competed in the AAU Championships. In the final he was unable to keep up with the leaders and lagged back in seventh place. Not knowing that Jim Ryun was running a new WR, he thought that he was running badly--until he heard 3:02 at the bell. This gave him incentive to burn up the last lap and he crossed the line in 3:59.8 to become the third high schooler ever to run a sub-4. Shaking Jim Ryun's hand after the race, he said, "I was awfully proud to be in that race. Thank you for setting that pace." (Sports Illustrated, July 3, 1967)
Villanova University
Recruited by Villanova University in 1967, he left Fred Dwyer to train under the legendary Jumbo Elliott. He chose Villanova for its coach: "Jumbo had the reputation, and Jumbo turned me on." (OTR, p. 121) Elliott was just the coach Liquori needed: "His method is a mixed bag, and eclectic blend of showmanship, salesmanship, Irish wit, Irish blarney, parental care, parental discipline, instinct and knowledge. His singular ability is in contrast quite simple; he inspires confidence." (OTR, p. 121)
Since in the 1960s freshmen weren't allowed to compete at the NCAA level, Liquori's first year at Villanova was quiet. He did not have to undergo the grueling varsity cross country and track seasons. It was a time to focus on training. Liquori had the 1968 Olympic team as a goal, and he was even able to do some altitude training in preparation for Mexico City. Following an impressive 2 Miles in 8:52.4 indoors in February 1968, knocking 12 seconds off his PB, he entered the outdoor track season with good conditioning and gradually rounded into top form for the Olympic Trials.
Continue reading at: racingpast.ca