Marty Liquori Profile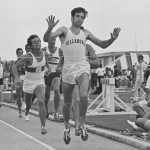 January 07, 2015
From Racing Past
Marty Liquori in full flight, still viewable on the Internet, has to be one of the finest sights in competitive running. He appeared on the running scene in 1967 as the third American high-schooler to break the 4 minute Mile. The 17-year-old from New Jersey was only seventh in the Bakersfield, California, race and finished 8.7 seconds behind the winner Jim Ryun, who broke the world record with 3:51.1. Within two years, this talented runner was defeating Ryun in major races. Under the coaching of Jumbo Elliott at Villanova University, the dedicated Liquori quickly emerged as the world's top 1500 runner in 1969. A fierce competitor, Liquori looked a sure bet to dominate the 1500 for many years. But this never happened. His harsh training schedules and frequent indoor competition led to a string of injuries that kept him out of some major competitions. And although there were many really fine performances throughout the 1970s—he was the world's #1 over 5000m in 1977—Liquori never quite fulfilled his early promise, and he ended his long career without a major title.
Schoolboy
Marty Liquori grew up playing baseball (as a catcher) and basketball. On entering high school, he dreamed of becoming a basketball player. To get in shape for basketball, Liquori followed the coach's wish and ran cross-country to get in shape: "At last I'd found an activity where I could work as hard as I pleased, where I could control my future and my success or failure." (On the Run, p. 89) Showing running talent, Liquori quickly switched from basketball to running.
His high-school coach, Fred Dwyer, a 4:00.8 Miler and Villanova graduate, believed in the killer attitude, a runner's concept that had been promoted by Australian coach Percy Cerutty. This attitude required hating your opponents. Dwyer soon had the young Liquori believe in this concept. Before races he would not speak to anyone, not acknowledge greetings and not shake hands on the start line. "Some people thought I was nuts," he wrote in his book On the Run. "I guess many of them thought I was some kind of animal." (OTR, pp. 92-3)
Liquori now admits that he became obsessed with running in the early stages of his career. He wanted to break 4 minutes while still in high school, he wanted to make the 1968 Olympics as a teenager and he wanted to be the world's #1 by the time he was 19. It says a lot for both his natural talent and for his determination that he achieved all three goals.
Continue reading at: racingpast.ca