Mary Cain on Fast Track to Success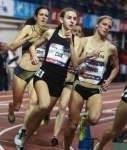 March 09, 2013
By Brian Heyman, lohud.com
The people's choice at the 106th Millrose Games had just emerged from the pack to run down four more national records on The Armory track. Now Mary Cain was sitting at one end of a small interview room, dealing with another pack several rows deep.
From among about 25 members of the media in the semicircle around her, someone asked how she's handling all the fan and media attention.
"I think pretty well," Cain said. "I don't know. You guys tell me."
She looked comfortable. She sounded at ease. She was her usual friendly and effervescent self — smiling, joking, spilling words out even faster than she runs.
Continue reading at: lohud.com