May 11-12 Mile Guide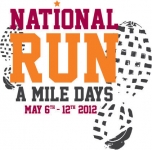 May 11, 2012
By Bring Back the Mile
It's the start of the international professional season today with the first stop of the Samsung Diamond League in Doha, Qatar. Stanford graduate, Russell Brown, is the lone American in Doha aiming for the Olympic 'A' standard at 1500 meters (3:35.50), which he nerely missed last year with his 3:35.70.
Back here in the States, conference championships galore highlight the NCAA calendar in addition to state championship qualifying meets at the High School level. If only they ran the Mile at those...sigh (thanks MA for staying strong!). One Mile highlight are the great fields assembled at the Southern Track Classic. Also, out in White Plains, NY The Loucks Games is hosting Masters Miles (why do you have to be 40 to have all the fun?!).
Finally, 2012 National Run a Mile Days campaign organized by our partner American Running Association goes through the weekend. Get out and run a Mile!
For complete schedule of events visit our exclusive Mile Calendar. Did we miss something? Email milemaniac@bringbackthemile.com
2012 National Run a Mile Days (May 6-12 / Nationwide)
Southern Track Classic (May 11, Richmond, VA)
The Glenn D. Loucks Memorial Track & Field Games Masters Mile (May 10 / White Plains, NY)
Samsung Diamond League (Friday, May 11 / Doha, Qatar)
NCAA Championship Central
Thank you! For complete T&F coverage of all the weekend's action check out ESPN Dyestat, Milesplit, Letsrun.com, FloTrack, USTFCCCA and a track near you. Go Mile!