Mile Guide: April 19-20, 2013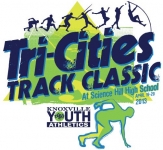 April 18, 2013
From America's hearltand to southern California's sunshine, Miles abound this weekend!
By Bring Back the Mile
Beginning with the Tri-Cities Track Classic in Johnson City, TN, the fourth stop on the BBTM Tour 2013, top high school Milers from the area will toe the line in the inaugural Boys' Ray Flynn Mile and the Girls' Markie Voyles Mile. BBTM sat down with meet director Marty Sonnenfeldt for a brief conversation on the impetus of honoring Ray Flynn in our latest Making the Most of Your Mile piece.
Across the country in Walnut, CA, top elites, collegiate and prep athletes will toe the line at the 55th Mt. SAC Relays. Meet Director, Doug Todd, has put together an incredible prep boys' Mile field, which we preview below. The Mt. SAC Relays Miles will take place on Friday evening beginning at 6:15pm PST with the Girls' Invitational Mile and ending with the Men's Elite Mile at 7:35pm. With one of the best Mile races of the year shaping up in the boys' race we preview what may become a Southern Californai classic. BBTM will be on hand covering with live tweets @bringbackmile.
Mt. SAC Relays Boys' Mile
The top three athletes from the blazingly fast Arcadia Invitational 3200m, who also make up the top three in the country at that distance, including last year's adidas Dream Mile champ, Bernie Montoya, will go head-to-head-once again. Adding to the drama will be Australian Cameron Griffith who is coming off an incredible 800m / 1500m double at the Australian Junior National Championships less than three weeks ago. If this race starts fast, we could have a sub-4 attempt on our hands. Here are the four to watch:
Back in America's heartland, the Glenn Cunningham Mile at the Kansas Relays has compiled some of the nation's best Milers to make a run at Jim Ryun's 36-year-old 3:54.7 meet record. Led by Olympians Leo Manzano and Nick Symmonds along with a contingent of other great Milers including Oregon alum AJ Acosta and the two-time KU Relays Mile champion Peter Van Der Westhuizen (RSA). Unfortunately, the Kansas Relays will also be running a boys' and girls' 1600m prior to the Glenn Cunningham. And to compound the issue it is being run on an imperial unit measured track and is an adidas Dream Mile qualifier. We hope in the future the federation harnesses and properly celebrates the rich Kansas Mile history!
Tri-Cities Track Classic: Ray Flynn & Markie Voyles Miles
Johnson City, TN - Friday & Saturday, April 19-20
April 20 @ 1:35pm - Girls' Markie Voyles Mile
April 20 @ 1:55pm - Boys' Ray Flynn Mile
Mt. SAC Relays
Walnut, CA - Thursday - Saturday, April 18-20
April 19 @ 6:15pm - Girls' Invitational Mile
April 19 @ 6:22pm - Boys' Inviational Mile
April 19 @ 7:35pm - Men's 1 Mile Run Invitational Elite
Kansas Relays: Glenn Cunningham Mile
Lawerence, KS - Saturday, April 20
MMTC Masters Mile
Bridgeport, MI - Friday, April 19