Mile Legend El Guerrouj Inspiring Future Generation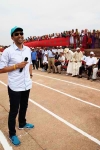 September 17, 2014
"It makes me think of when I was young. I had dreams to become an Olympic champion. It is important for young kids to believe and to dream. Sport can do this for them."
By Simon Turnbull for the IAAF
Ten years on from the Athenian drama of the 2004 Olympic men's 1500m final, Hicham El Guerrouj was still playing catch up.
The welcoming folk of Douar Ait Iktel, a remote village some 1200m from sea level in the Atlas Mountains, an hour and a half's drive south of Marrakech, had already greeted the visiting party of IAAF ambassadors, Athletes' Commission members and officials by the time the world's fastest ever 1500m runner and Miler arrived – somewhat flustered and profusely apologetic, but looking the epitome of cool in his Top Gun-style aviator shades.
"I am sorry, but I stopped to have some tea at a village at the foot of the mountains and I got lost," said El Guerrouj, addressing the villagers lined around the railings of the Ait Iktel school playground, and the 80 children gathered to take part in an IAAF / Nestle Healthy Kids Athletics Day organised by the Moroccan Association for Sport and Development and supported by Athletics for a Better World, the IAAF's burgeoning social responsibility project.
The locals were simply glad that the national hero had made it. They clapped, cheered and whooped, then performed so many versions of Happy Birthday, in a variety of languages, that it would have been no great surprise had Stevie Wonder emerged to add his personal congratulations to El Guerrouj on the occasion of his 40th birthday.
The great man himself (the Moroccan king of middle distance, rather than the American king of the keyboards and vocals) looked hardly a day older than he had been on 3 August, 2004, when he suddenly found himself playing catch up 50 meters from the finish line in that dramatic Olympic 1500m final.
Continue reading at: www.iaaf.org