Mile Moment of the Month: Heald's Historic Run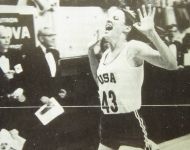 March 17, 2014
American teen beats Russian women and also sets indoor world record
By Bring Back the Mile
March 1972: The world was still embroiled in the Cold War, the Vietnam War was raging on and U.S. President Richard Nixon had recently returned from an official visit to Mao Zedong in China. To step on the track on St. Patrick's Day, March 17, 1972 for the USA vs. USSR dual meet would be quite the experience for any athlete, but imagine being Debbie Heald, a 16-year-old prep athlete from sunny Southern California.
A 2012 Runner's World article compared growing California high school female runners in the 1960s and 1970s to growing quarterbacks in Pennsylvania's coal country. Indeed, within a generation, California had produced Heald, Francie Larrieu and Mary Decker amongst others. In 1971, at the age of 16, Heald beat Larrieu, three year's her elder, in the California girls' cross country championships setting herself up for her historic run in the winter of 1972.
It began with a 4:47.5 Mile at the National AAU Indoor Championships on February 25 in Madison Square Garden. Debbie finished in second place behind Doris Brown, who in 1966 had become the first woman to break 5 minutes in the Mile indoors. That runner-up finish earned Heald a spot on Team USA for the eventful dual meet occuring three weeks later in Richmond, VA versus the Soviet Union and the top Russian Mile stars: Lyudmila Bragina and Tamara Pangelova.
Incredibly and unexpectedly, Heald, the teen talent, won her first international meeting versus legend Brown as well as the top athletes from the Soviet Union. Her 4:38.5 set the indoor Mile world record and a high school record that was the longest standing high school record, lasting nearly 41 years until teen phenom Mary Cain broke Heald's record on January 26, 2013 with her 4:32.78.
Here's the thrilling, historic 1972 race video: