More than 200 kids take part in muddy one-Mile XC race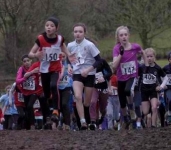 January 10, 2015
"Running over a 'proper' cross country course, with hills, mud, rain and wind to contend with is character building."
By Tom Murphy, Westmorland Gazette
More than 200 children from 16 South Lakeland primary schools took part in a muddy one-Mile u11 cross country race at Casterton, Sedbergh Preparatory School.
The host school won the overall winner's awards while Sedbergh Primary School's Fraser Sproul, and Penny Bridge Academy's Olesia Winder, won the boys and girls races respectively.
"This is the third year running that we have offered our facilities to South Lakes for the Cross Country event," said Juan Gonzalez Mendia, director of sport at the school. "Regardless of the adverse weather all the children showed great character and determination, especially the boys race when the worst of the rain came in.
"The Cross Country track remained in good condition as a result of our fantastic grounds staff. It was fantastic to receive so many spectators', parents and children attending the event - what a great turn out of support. We look forward to hosting this event next year."
Continue reading at: www.thewestmorlandgazette.co.uk