Morning Mile delivers more than fitness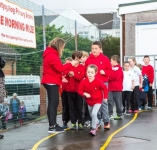 October 09, 2016
The exercise routine showed how easily children can be active with little need for equipment or resources... and being physically active can have a positive effect on a child's performance in the classroom.
By Katie Sands, WalesOnline
A morning routine where schoolchildren walk around their playground for a Mile before lessons begin has been hailed as a fantastic way to impact children's lives and improve their health.
Teachers and members of staff at Pantysgallog Primary School in Merthyr Tydfil say they've seen a marked improvement in children's performances in the classroom since introducing the Morning Mile initiative.
Children in the juniors section of the school walk 10 laps of their school yard every morning – at 160 meters per lap – before lessons begin, with their total distance adding up to a Mile.
After seeing a similar initiative on the Pride of Britain Awards last year the school's physical education coordinator Rebecca Rogers teamed up with the school secretary Denise Astley to introduce the morning ritual.
Continue reading at: www.walesonline.co.uk