My Best Race: 50 Runners and the Finish Line They'll Never Forget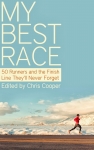 December 21, 2013
The Mile, the best race for Steve Scott, Marty Liquori and Jon Sinclair
By Chris Cooper
Fifty runners, from the world's elite to passionate amateurs, share the races they'll never forget.
Every runner that enters a race has a unique reason for competing: racing for the challenge, for the achievement, for the health benefits, or for more personal reasons. But whether they are twenty-mile-a-day elite marathoners or twenty-mile-a-week recreational runners, each of them can invariably point to a singular performance as "the best race I ever ran."
My Best Race is a collection of those singular performances. In this inspirational collection, fifty runners, from Olympians and World champions, to courageous disabled athletes and middle-of-the-packers, share their personal accounts of what they consider the best race they ever ran...and why.
For Steve Scott, Marty Liquori and Jon Sinclair, their respective best race was a Mile.
Learn more and order the book ($5.99) here: https://ganxy.com