Myers earns Throwback Athlete of the Week honors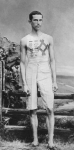 November 21, 2020
Versatile 19th century legendary runner held national records in events from 50 yards to the Mile!
From USATF
INDIANAPOLIS -- Sprint and middle-distance legend L.E. "Lon" Myers was selected as the winner of the 34th USATF Throwback Athlete of the Week award for setting a U.S. outdoor record in the Mile on November 11, 1882. In the absence of regular competition during the COVID-19 pandemic, we are taking a weekly look back at some of the great efforts by American track & field athletes through the years.

In a race against England's W.G. George at the Polo Grounds in New York City on Nov. 11, 1882, Myers set an American record of 4:27 ⅗ in a losing effort, as George won easily in 4:21 ⅖. The time for Myers was 1.9 seconds faster than his previous AR, set May 31, 1880.

Myers trounced George over a half-mile the previous Saturday, but through the first 440y of the Mile, George had a lead of a few strides as he went through in just over 61 seconds. George continued to lead through the half in 2:05 ⅕ and the three-quarters in 3:16, 10 yards ahead of Myers according to the New York Times account of the race. At the finish, the fellow Mile legend had a gap of more than 20 yards over Myers but had pulled the American to another national record. In the final race of the series on Thanksgiving Day, George took top honors over three-quarters of a Mile.

A 1974 inductee into the National Track & Field Hall of Fame as part of the inaugural class, Laurence Eugene "Lon" Myers was the greatest 440 and 880 runner of the 19th century but he also held national records in events from 50 yards to the Mile. He won 15 national titles, including six straight in the 440‑yard dash, and was the first man to break 50 seconds for the quarter mile.

A true measure of his versatility came at the 1880 National AAU meet when he won all four races from 100 to 880 yards. Only 5‑8 and 112 pounds, his bests of 10.0 for 100 yards, 22.6 for the 200, 48.6 for the 440, 1:55.4 for the 880 and 4:22.6 for the Mile are still impressive marks for versatility of running. In 1885, he became a professional runner and later moved into bookmaking, which was legal at that time. He died of pneumonia 13 years later.