NCAA Champ Leah O'Connor: 'I'm Just Now Falling in Love with Running'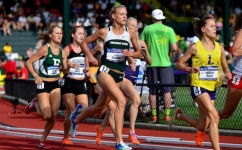 April 28, 2015
The Michigan State University senior talks about goals, training, and racing in her final season as a Spartan.
By John A. Kissane, Running Times
As she laughs at memories of her childhood running experiences on the family farm near Croswell, Michigan, it's clear Leah O'Connor's strengths as an athlete are grounded in a deep and long-standing love for her sport. That passion, she explains, has continued growing right up to the present day. A two-time individual NCAA champion and a strong contender for a spot on the 2015 U.S. World Championships team, O'Connor will bring her career at Michigan State University to a close this June. But she has plenty of running to do as a Spartan.
O'Connor graduated from Croswell-Lexington High School, enrollment 800, in 2010 with personal bests of 2:15.08 for 800m and 5:01.99 for the Mile and won Division 2 State Championships in both events her junior and senior seasons. At Michigan State, under the guidance of veteran coach Walt Drenth, O'Connor found her calling in the 3000 meter steeplechase. As a redshirt freshman she won the Big Ten title in the event. She took fifth place at the NCAA Championships in 2013 before winning the event in 2014 in a school record of 9:36.43, good enough to rank her sixth in the U.S. that year.
Now in her final year as a Spartan, O'Connor claimed individual cross country victories at both the Big Ten championships and Great Lakes regional last fall and finished 17th at nationals, helping Michigan State claim the program's first-ever team title. On March 14 she rolled to win at the NCAA Indoor Championships in the Mile in a meet record time of 4:27.18, currently the 4th fastest Mile in the world this year.
Continue reading at: www.runningtimes.com