New Jersey Firefighter Sets Record for a Mile in Full Gear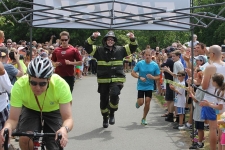 May 30, 2015
Brendan Corcoran, 37, broke the existing Guinness record by more than a minute with a time of 6:45 while wearing 25 pounds of gear.
By Alison Wade, Runner's World
For the second time in just over two months, fire lieutenant Brendan Corcoran, 37, of Ridgewood, New Jersey, has set a pending Guinness world record for running a race in full firefighting gear. At Monday's Fred d'Elia Memorial Day Ridgewood Run, he covered a Mile in 6:45 while wearing 25 pounds of gear, smashing the old record of 7:58.02. At the end of March, he set a pending half marathon record of 1:48:24, surpassing the previous record by more than 12 minutes.
It was the hardest 6:45 Mile of Corcoran's life. He doesn't usually race the Mile—he considers himself more of a triathlete and prefers longer road races—but he predicts that he could probably run at least 4:40 without the gear.
"It's fair to say that it slows you down a couple minutes a Mile for sure, if not even more," he told Runner's World Newswire.
Continue reading at: www.runnersworld.com