New Jersey-New York Track Club in flux as HOKA's 4-year sponsorship ends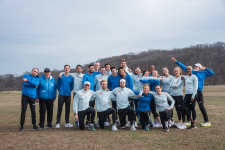 December 02, 2020
Longtime legendary coach Frank Gagliano remains at the helm, while his assistant coaches form a new group
By Sarah Lorge, Runner's World
The New Jersey-New York Track Club (NJ*NY TC), an elite training group founded in 2010 by legendary coach Frank Gagliano, is in flux after title sponsor HOKA declined to renew its support of the group beyond the end of 2020.
HOKA has sponsored the training group as a whole, and many of its athletes individually, since 2016.
It's not unusual for training groups to lose or gain sponsors after Olympic years, but the pandemic threw a wrench in the typical timing of running deals. Gagliano and two assistant coaches, Tom Nohilly and John Trautmann, had hoped that HOKA would extend its support for at least six months, through the U.S. Olympic Track & Field Trials in June 2021. That meet, which selects the U.S. Olympic team in track & field, was postponed for a year after the Olympics were also postponed.
Through its public relations firm, HOKA declined requests for comment from Runner's World. HOKA is also a Runner's World advertiser.
"HOKA's decision to end the sponsorship for the HOKA New Jersey-New York Track Club is very disappointing to me," Gagliano said in an interview with Runner's World. "I really feel for these men and women who are hurting with the Olympic Trials six months away."
A track coach for 59 years, Gagliano, 83, said this loss of financial backing comes at a difficult time. Because of the pandemic, racing opportunities are scarce, and many other shoe companies' rosters are full.
"In all these years, whether it was a post-collegiate club or in the college ranks, we always got to the Olympic Trials," he said. "What's happened now has never happened in my career. It's very tough to look in the athletes' eyes or hear their voices on the phone, saying, 'Can I get to the Olympic Trials?'"
Trautmann concurred, pointing out that the window for track athletes to have a shot at making the Olympic team is very short—usually one or two four-year cycles at most.
NJ*NY TC is based in Westchester County, a suburban community of New York City, where the cost of living is high. But in its early days, the group was one of the only options for middle-distance track runners who wanted to stay on the East Coast.
Continue reading at: runnersworld.com