Niall Bruton: the Irish Olympian who rebuilt himself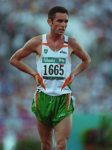 January 03, 2020
Two-time Wanamaker Mile and indoor NCAA Mile champion overcome the trauma of being forced into early retirement to forge a successful career outside of athletics
By Paul Fennessy, The42.ie
When Niall Bruton meets up with The42, he's just after giving a talk at the Sport Ireland Institute in Abbotstown.
The Irish former 1500m runner spoke of his athletics career, and the various challenges he encountered, much as he is about to do now.
It was an event he was happy to be part of, though he readily admits such a request would have unquestionably been turned down 10 or even five years ago. For a long time, he had been trying desperately to escape his past.
It's not unusual for a young person to feel a sort of invincibility, particularly if they happen to be a gifted athlete. This was true of Niall Bruton growing up in Santry, North Dublin. Sport wasn't just a part of life. For him, it was life. He ran everywhere. Literally. To and from school. To the shops. To the bus. Any excuse and he was off.
"You hear stories of the Kenyans running to school every day, and I was probably a version of that in some respects," he tells The42.
"It made me feel good. I enjoyed it. I felt in control. It was just a good feeling to run. A bit like the 'Run, Forrest, Run' type feeling."
A talented footballer, Bruton played for St. Kevin's Boys — the youth side that has produced a number of Ireland internationals — up until the age of about 16. He also played GAA for Whitehall Colmcilles, in addition to being recruited by the renowned Clonliffe Harriers Athletics Club.
By his mid teens, Bruton was getting called up for Irish internationals and it wasn't long before the scholarship offers started coming through his letterbox on a regular basis. Peter McDermott, his coach at Clonliffe Harriers, encouraged the youngster to pursue this opportunity.
Ultimately, the University of Arkansas beckoned. With dreams of becoming a top class athlete, it was "the only option" at the time.
"It was the number one school in the nation," he recalls. "There was a feeling I had about it, and John McDonnell was the coach. From a U.S. collegiate point of view, he's a living legend. Interestingly, from the west of Ireland [in Mayo]. One of the most successful Irish coaches of all time and in my opinion, hasn't got the credit he deserves in Ireland.
"Also, a person that's very close to me is [University of Arkansas graduate and three-time Irish Olympian] Frank O'Mara. As a young athlete, Frank was a hero. I saw how he trained. How he modeled his life. The focus he had. How he encouraged me. And he was an exceptional athlete, a natural athlete and I just liked everything about Frank."
For a young Bruton, Arkansas was "culturally different" and "a massive shock on so many levels".
He adds: "All my life, I've tried to challenge myself in that respect, so it's not just about: 'Can I go there and run, but can you live your life?'"
Though it took time to adapt, under the guidance of McDonnell among others, Bruton thrived. He prevailed in the Mile at the NCAA Indoor Championships, twice (1993-94), in addition to being named the most outstanding performer among college men at the 1992 Penn Relays.
In 1996, Bruton ran his Mile personal record, clocking 3 minutes, 53.93 seconds in Oslo, while the year before, he set a PR 1500 meter time of 3:35.67 in Cologne.
"I probably had a bit of arrogance about me in a North County Dublin [way]. People thought I was a bit cocky. John would argue on the contrary — I wasn't arrogant enough.
"I would come into his office going: 'I think I can break 4 minutes in the Mile.' He would say: 'Get out of my office and come back in when you know you're going to break 4 minutes.'
"So I was successful within Arkansas and then I signed a professional contract post-college with ASICS.
"I ended up winning my first Wanamaker Mile against Marcus O'Sullivan, which was kind of a surreal moment. I look back now, it's on YouTube, I can still remember coming off that bend.
"It was one of those nights that were just special for many reasons. It was Madison Square Garden. It was iconic. It just had that mystique. It sounds a bit cheesy. But it is a special place. Friday night. February 1st. 11 o'clock. Red and yellow track. 160 yards. 11 laps to a Mile. And it was a real race. I think William Tanui was in it — the 800m champion at the time. And Marcus was obviously world champion. It was one of those where it could have gone faster or slower, I just felt I was going to win it. Everything came together."
He continues: "I then ended up being fourth in the World Indoor Championships. I was a World Student Games champion before that. Sonia had run at the same time. I was doing my lap of honor when she was on the podium. I don't know if that's happened before or since from an Irish athletics point of view, but that was a special moment."
Bruton qualified for the 1996 Atlanta Olympics, though was disappointed to only reach the semi-finals and it was around this time that the trouble began. All of a sudden, his hip started to feel weak, affecting his ability to accelerate at crucial moments in races. At first he persevered, and got through the 1997 season.
Continue reading at: the42.ie