No Colon, But Cal's Collin Jarvis Is Still Rollin'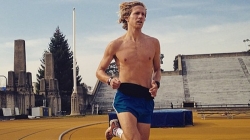 March 09, 2015
"But it was a victory for me to just step on the starting line again and be able to run a race and feel good about it."
By Taylor Dutch, Flotrack
The officials called the runners to the starting line for section three of the men's Mile at the MPSF Indoor Championships. One by one, they lined up according to hip number, each wearing their respective school's singlet.
One runner carried something extra, unnoticeable to spectators.
Underneath his Cal singlet, Collin Jarvis wore an ileostomy bag, meant to hold bodily waste, attached to his small intestine.
He has no colon.
He hadn't raced in two years.

"Before anything like this happened, I would be upset with times that don't even seem fathomable to me right now," Jarvis said. "I would walk away from getting second at Pac-12's in the steeple just angry and livid.

"I want to go back and just slap the old Collin in the face and tell him how lucky he is to be out there."
Continue reading at: www.flotrack.org