Olympian Geena Gall-Lara hosts Crim Michigan Mile running clinic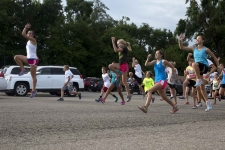 August 21, 2014
Not often will you get the chance to soak in knowledge from an Olympian and two-time NCAA champion so everyone took advantage, including myself.
By Eric Woodyard, Flint Journal
GRAND BLANC, Mich. -- Trying to keep up with an Olympian is hard. I mean, really hard.
Especially when you're not an athlete anymore and your glory days are behind you at 25-years-old. Sad, right?
There's no way, in my current shape, that I could ever come close to matching professional middle distance runner Geena Gall-Lara's decent time even on her worst day. Now, that's a fact.
My morning runs may make me feel like Usain Bolt but in reality I'm more like the opposite.
I nearly fainted when she told her best career Mile time was a 4:31 last year. Are you kidding me, I thought as the words eased from her mouth, 4:31? I'm lucky to crack seven and a half minutes on a good day.
So it shouldn't be a surprise to anyone that I couldn't keep up with her during her second annual 'Run with Geena' one-Mile race in Grand Blanc on Wednesday, which was more like a half-mile, where none of the finishes were timed. She didn't break a sweat, by the way.
Continue reading at: www.mlive.com