Olympic Athlete Brings a Sushi Pop-Up to New York's Infamous Happy Ending Bar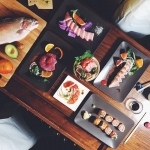 April 28, 2017
Former high school Mile ace and Stanford star: "That's a performance that sushi lovers savor, I think, because it tells a more round and complete story. People like how open and interactive this omakase experience is."
By Christina Perez, Vogue
Happy Ending, the dimly-lit and slightly debaucherous hot spot on Manhattan's Lower East Side, closed its downstairs nightclub last year. But its upstairs bar is still up and running, and still a pretty good time—especially now that an omakase sushi bar with a charismatic chef has been added to the mix.
The chef is Michael Stember, an Olympic athlete who first became interested in the performance-enhancing merits of raw fish while he was training to make the U.S. track & field team in 2000. For the past five years, his underground Sushi Belly Tower dinners have developed a bit of a cult following thanks to Stember's unorthodox approach, high-quality ingredients and artful presentations. Now behind the bar at Happy Ending, he's drawing a small crowd as well.
That's likely, in part, because dinner with Stember feels like a performance, or at the very least like some kind of modern, grill-less version of a cool-kid teppanyaki. Stember is a stickler about fish—he works directly with premium seafood suppliers to cull the best of the day's catch—and his sashimi and maki are tasty, yes, but the real fun comes from watching him work.
Continue reading at: www.vogue.com