Olympic runner Jenny Simpson talks with Long Island kids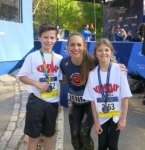 December 30, 2017
So the best moments I have ever had were when I just crossed the finish line.
By Annemarie Jones & Brendan Riordan, Kidsday Reporters, Newsday
We interviewed Olympic runner Jenny Simpson when she was visiting Manhattan recently. Jenny is a middle-distance runner and also competed in the steeplechase. She represented the United States at the 2008 Beijing Olympics, 2012 London Olympics and 2016 Rio Olympics.
Who was your support system when you were preparing for the Olympics?
When I was in the Olympics, it was primarily my husband and my coaches because they would travel all around the world with me. A lot of the times one of my coaches, Heather, and my husband would do a lot of the runs with me.
When you were running in the Olympics and having to do it in front of millions of people, would that frighten you or make you run better?
Sometimes when I am warming up, it makes me really nervous because I am thinking about all the people who are watching and cheering for me, and I don't want to let them down. But as soon as I get on the track, I think, this is what I do best. And then I get really excited and then when I do well — well, oh, my goodness, to celebrate with all those people watching, that is the best part.
Are you ever in pain after a long run?
I think that a long run is really hard but I am not often in pain — it's just really, really challenging. If I am in some sort of pain that usually means I have to head to the training room and I have to get medical attention and then, perhaps, take a day off.
Continue reading at: newsday.com