One lap, One Mile, One fast little race: Go! Mile RRCA 1-Mile Championships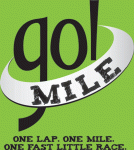 June 16, 2015
Beginning at 7:00am Saturday, June 20 events will fire off heats along a new route that starts and ends at the Clinton Presidential Center.
By Conley Byrd III, Arkansas Online
Most 5K and 10K races, along with their longer marathon-type cousins, lend themselves to a certain mindset. They favor the distance runner who likes to think about things like pacing, placement of aid stations, carbohydrate loading, negative splits, etc.
Any given weekend within state lines, runners have their choice of at least one or two such races. The calendar of events at ArkansasRunner.com lists 20 during June alone.
But after a runner leaves the high school track team, there aren't many events that favor the sprinter.
The Go! Mile presented by Go! Running in Little Rock is the exception, providing not merely a 1 Mile contest but six of them, one after another.
Continue reading at: www.arkansasonline.com