Oregon Legend Jim Grelle Ran with the Best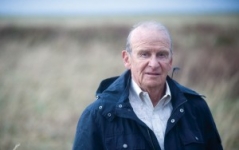 November 30, 2012
Runner started at Lincoln High, went to UO, then all the way to the Olympics
By Gary Henley, The Daily Astorian
GEARHART, Ore. — He's the North Coast's own running legend.
And while Jim Grelle takes as much pleasure nowadays playing and talking about golf, he still loves reminiscing about his running days, which took him from Lincoln High School to the University of Oregon to the Olympics.
For nearly three decades, he ran with and against some of the all-time legends of track & field.
Most Oregon track afficionados know the current names by heart – Ashton Eaton, Galen Rupp, Matthew Centrowitz, Andrew Wheating, etc.
And Duck fans are certainly familiar with the names of the past. But few saw them compete, and even fewer know them personally. When those legendary names are mentioned, they're usually attached to statues, trophies, buildings or races – e.g., the Bill Bowerman Building, the Bill Dellinger Invitational, the Steve Prefontaine Classic.
Jim Grelle, you might say, is the source if you want to talk Oregon track & field history. He ran with Knight, ran with Dellinger, ran for Bowerman… and he did a whole lot more after his college days were over.
Continue reading at: dailyastorian.com