Ovett's 3:49.25 Wins Oslo Mile as Seven Runners Better 3:51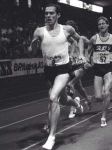 July 11, 1981
''It's the best Mile the world's ever seen." - Steve Ovett
By Neil Amdur, New York Times
OSLO, Norway — The Mile moved to a new frontier tonight when seven runners shattered 3 minutes, 51 seconds, led by Steve Ovett's winning 3:49.25 and an American record 3:49.68 by Steve Scott, who was third, in the Dream Mile.
On a warm, pleasant evening on which Sebastian Coe of Britain broke his world record in the 1000 meters with a time of 2 minutes, 12.18 seconds and Edwin Moses won his 65th consecutive race in the 400 meter hurdles (47.99 seconds), Bislett Stadium reaffirmed its place as ''the world record track'' during the Dulux Games.
There was no world record in the Mile; Ovett set the mark here last year in 3:48.8. But tonight's race, before an enthusiastic crowd of 12,822, will be talked about alongside such Mile races as Roger Bannister's first sub-4 minute performance; the Bannister-John Landy duel, and Marty Liquori's 1971 ''Dream Mile'' victory over Jim Ryun.
In most previous sub-3:50 performances, the race was confined to a single runner's pursuing a world record, with most challengers far behind. Tonight's race proved that Milers are now prepared to compete at the 3:50 level.
''It's the best Mile the world's ever seen,'' said the normally cautious Ovett, the 1980 Olympic 800 meter champion from Britain, who outkicked 10 rivals on a last lap that saw the first three runners under 3:50 and the next four no more than 12 yards behind.
In order, after Ovett, came a fast-closing José Luis González of Spain, at 3:49.67; Scott, who broke Jim Ryun's 13-year-old record of 3:51.1; John Walker of New Zealand, the former outdoor record holder, 3:50.26; Todd Harbour of the Santa Monica Track Club, who also finished under Ryun's old collegiate mark at 3:50.34; Steve Cram, a promising British 20-year-old, 3:50.38; and Thomas Wessinghage of West Germany, 3:50.91.
In eighth place was John Robson of Britain, at 3:52.44. Eamonn Coghlan of Ireland, the king of indoor competition, was ninth, at 3:56.50, a time that normally would have won many miles until this latest sub-3:50 wave.
Times Stun Coghlan
''Unbelievable,'' Coghlan said afterward, studying the final times. The two other runners in the field were Tom Byers (4:07.72) and Bob Benn of Britain, both played interesting roles in a race that combined every element: an unusually late starting time (11:15pm) to accommodate a live American television deal with ABC; a fast, early pace; tactical maneuvering and an excitingly competitive last lap that contrasted with one runner's playing beat the clock.
Continue reading at: nytimes.com