Paul McMullen: Where is he now?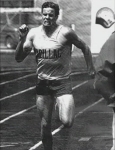 September 05, 2020
Northern Michigan athlete and sub-3:55 Miler was Cadillac High School's first Olympian
By Craig Manning, Northern Express
Northern Michigan has produced some standout high school athletes, including three-time USA champion and 1996 Olympian Paul McMullen.
Where he was then: McMullen graduated from Cadillac High School in 1990 after bringing considerable glory to the school by way of his track & field exploits. A middle-distance runner, McMullen, who was also a football standout, won the Class B state title in the 1600 meters his senior year, running a 4:19.9. The same year, he finished as state runner-up in the 800 meter run, in 1:55.9.
Where he's been since: For a time, McMullen was one of America's preeminent middle distance runners, despite carrying 165 pounds on his 6'2" frame. After high school, he headed to Eastern Michigan University, redshirting his freshman season due to injury but coming out swinging in subsequent seasons to become an eight-time NCAA All-American. In 1995, fresh out of college, he won a 1500m title at the 1995 USA Outdoor Track & Field Championships, clocking 3:43.90. In 1996, McMullen came back and won the Olympic Trials in the 1500m with a 3:43:86 mark. He represented the United States at the 1996 Olympic Games in Atlanta (becoming Cadillac's first Olympian in the process) and made it to the 1500m semifinals, missing out on the finals despite a time of 3:37.81.
Then, in 1997, disaster struck. McMullen was weeks out from another USA Track & Field Outdoor Championships when he cut off the majority of his right foot's second and third toes in a lawn mowing accident. The fear, of course, was that McMullen would never run again. Instead, he relearned how to run, found (healthy) ways to compensate for his missing toes, and came back strongly, passing Steve Holman (then America's fastest Miler) in the homestretch at the 1998 USA Indoor Track & Field Championships to win the Mile in 3:55.84, his third national title. While McMullen missed out on an Olympic opportunity in 2000, he ultimately ran the fastest times of his career in 2001: a 3:33.89 1500m in Monaco, a 3:54.94 Mile in London, and a 1:45.71 800m in Germany.
Where he is now: While McMullen's professional running years are behind him, the 48-year-old Olympian is still a heavily active athlete — though he's now traded the half-mile and Mile distances of his past for marathons and ultramarathons. He lives in Grand Haven, works for Siemens as a building infrastructure account executive, and operates a west Michigan youth running club called Chariots of Fire, designed to get boys and girls between the ages of 7 and 12 interested in running.
FUN FACT: Younger brother Phil McMullen was a world class decathlete.
NOTE: Paul McMullen died tragically in a ski accident in Northern Michigan on March 4, 2021 and leaves behind his wife, Nuria, and three children.