Pupils jump at opportunity to learn from champ Eamonn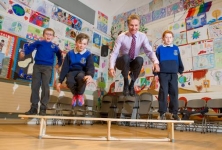 December 10, 2013
"Chairman of the Boards" and now senator Eamonn Coghlan promoting "Points for Life" PE program in Ireland
By Katherine Donnelly, Education Editor, Irish Independent
HE was a world champion athlete and nearly unbeatable at the indoor Mile in his day -- now Eamonn Coghlan is promoting physical education in primary schools.
The Fine Gael senator is piloting a programme called Points for Life, in association with the Department of Education.
Pupils in four primary schools in north Wicklow -- St. Laurence O'Toole's in Roundwood; St. Cronan's in Bray; Moneystown National School; and St. Patrick's in Curtlestown, Enniskerry -- are to be monitored and the results will be evaluated at the end of the school year.
The findings will be presented to Education Minister Ruairi Quinn and Mr. Coghlan hopes it will be incorporated into the curriculum.
Continue reading at: www.independent.ie