Q&A with DL Champion Jenny Simpson after Her Win in Zürich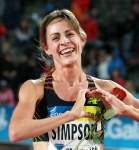 August 31, 2014
"I pulled off what seemed at times was impossible odds: I had managed to win both the final DL races which was required if I wanted any hope at the overall DL title."
By LetsRun.com
On Thursday, Jenny Simpson became just the second American mid-d/distance runner to win a Diamond League title after narrowly edging fellow American Shannon Rowbury to win the 1500 in Zürich by .01 seconds. Over the weekend, LetsRun.com caught up with Simpson over email. We asked Simpson about the contact at the finish line with Rowbury, why she's been so successful on the circuit this year and why she thinks American women are running well in the middle distances this year.

LetsRun.com: Universal Sports announcer Tim Hutchings said you had asked for a quick pace coming in. Was your focus on the American record or winning the race?
Jenny Simpson: The focus was on winning the race with the hope that possibly it could be a record-setting night. It's not easy to balance more than one objective in such a big race when the stakes are so high. So looking back I'm not as surprised that I was never really on pace for the record. But, I wanted to keep it in reach in case I felt great and could make a go at it. I'm disappointed that I wasn't able to make another really big attempt this year at 3:57.0 but overall winning the Diamond League was the most important focus going into the race in Zürich.
LRC: On a related note, what was your strategy coming in? It looked like you wanted to control the race from the front like you did to win USAs.
JS: It is less about controlling the race and more about just making sure it's a quick pace. I knew I was in good enough shape to press the whole way and since these races have pacers, I'm not out there all alone for the entire 1500m race. I thought my strength going into the race was my fitness and so similar to how I felt at USAs, I just thought I left less to chance if I went out and ran to my ability level.
Continue reading at: www.letsrun.com