Q&A with Garrett Heath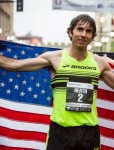 November 03, 2019
Running can be such a social sport and the biggest motivators for getting out the door can be knowing that someone else is counting on you to do it with them.
By Phil Patterson, Jr., HeelStriker954.com
Garrett Heath grew up in Winona, a small town of about 30,000 people in southeastern Minnesota. His parents are both very active so he grew up taking family road trips to Colorado where they'd camp, hike, and bike in the mountains for a few weeks every summer. From those, he really started to love just being active in the outdoors and first started running competitively in 6th grade when he joined the cross country team in his hometown. Because the middle schooler's could train with the high school where he was from, he spent his first few years chasing the older high schooler's around before eventually having some success of his own and winning 6 state titles between cross country and track. Garrett also grew up cross country skiing, so he never ran for about 3 months in the winter and spent that time on skis traveling around Minnesota with his high school team for races. Garrett also won 5 state titles in skiing by the end and considered going to college to ski as well as run for a while during his junior and senior year.
Eventually he decided on running at Stanford University in California. There he mainly focused on the 1500 and Mile with the highlight of his college career being a DMR national title that his team won during his junior season indoors. After college, he signed with Saucony and hung around there to do a Masters degree in Strategy & Entrepreneurship while occasionally training with the Stanford team. After 4 years with Saucony, he moved to Seattle to run for the Brooks Beasts team for the last 6 years now. He's trained mainly alone during his last year or two in the Bay Area, so it was a huge rejuvenation for his motivation and career in moving to Seattle and having a great group to train with every day. As he's gotten older, he's slowly moved up in distance. So while he still loves the Mile and 1500, he's spent most of his time focused on the 5,000 and 10,000 meters now the past few years. No marathon in the plans yet though.
After all that you accomplished, what drives you to continue running?
I'm competitive and constantly motivated to test the limits of what my body is capable of. As long as I believe I haven't reached my ceiling in running, this will continue to motivate me to push harder and keep chasing dreams. For now, I still particularly feel like there's a lot of potential for growth in the 5K and 10K. My body feels better when I'm active and fit. Even once I'm done competing, this will continue to motivate me. Also, the Beasts Team. Being around the team makes everything more fun with training and keeps me motivated to keep getting faster. Big dreams are contagious and surrounding yourself with like minded people is important.
​How do you motivate yourself on days when you don't feel like running?
Find people to run with! Everything is better with friends. Or explore a new route.
​What are your goals for the upcoming year?
Be healthy, PR in the 5K and 10K, and make the Olympic team.
Who is faster, you or your younger brother Elliott?
Older brothers are always faster, or at least willing to throw more elbows. But he has managed to nip me in a few races over the years.
What distance do you know you could beat him in?
I would've thought the Mile since my personal best is much faster there and he's been a bit more of a 5K guy over his career, but he won the battle the last time we squared off in that. So I guess maybe something shorter. Probably the 800?
What has been your most memorable race to date?
The Great Edinburgh cross country race in Scotland. I love this race for the course and the fans there! It's hard to find true cross country anymore but this race has plenty of mud and a couple stream crossings. It's also been the site of some of my better races as a pro and being able to beat Mo Farah there was an experience that I'll never forget.
Continue reading at: heelstriker954.com