Q&A with Johnny Gregorek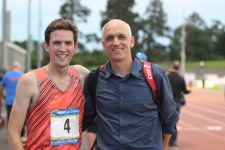 December 30, 2018
When I ran faster and did the 3:53 and my dad & I had the fastest combined Mile time was way more exciting & dramatic than my first sub-4 which was sort of lackluster.
By Gary Cohen
Johnny Gregorek was a member of the 2017 World Championships team and finished in 10th place with a time of 3:37.56. He won the 2017 Tracktown 1500 meters to set his personal record of 3:35.00. Johnny finished in sixth place at 1500 meters at the 2016 U.S. Olympic Trials and in fifth place at the 2016 USATF Indoor Championships. The 2014 graduate of Columbia University was a 2014 NCAA Indoor All-American, placing sixth in the Mile. He also won an Ivy League steeplechase title and was on Columbia relay teams that won the Ivy League 4 x 800 meters and Notre Dame Invitational distance medley relay. His final year of collegiate eligibility was completed while in graduate school at Oregon where highlights include being a member of the 2015 NCAA Indoor & Outdoor Championship teams and the Penn Relays DMR champs. Johnny graduated from Seekonk High School (Massachusetts) where he led his team to be State Cross Country champions and won the 2009 State Indoor 2-Mile title. He was also class valedictorian and achieved the rank of Eagle Scout.
Johnny and his father, John, a 1980 & 1984 Olympian, are the fastest father-son Mile duo in history with an average time of 3:52.25. Johnny's mother, Chris, was a 1980 & 1984 Olympic Trials qualifier with a 4:29.00 Mile PR, and the trio own the fastest father-mother-son Mile average of 4:04.50. His personal record times include: 800 meters = 1:47.12; 1000 meters = 2:21.32; 1500 meters = 3:35:0; Mile = 3:53.15; 3000m = 7:49.93; 3000m steeplechase = 8:52.85 and 5000m =14:12.84. Johnny currently is a professional athlete sponsored by ASICS and resides in Tarrytown, New York. He was kind to spend over an hour on the telephone for the following interview.
GCR: We met at the FL Runners.com Invitational cross country meet in September where you and your dad were there with ASICS and I was meet announcer. How joyous is it to stay in close contact with your sport during the off-season through working with ASICS, being able to share this with your dad and to feel the excitement and energy from the high school runners in a place where you were in your running development eight or ten years ago?
JG: That was a lot of fun and the meet organizers put on a great meet. I was there two years ago as well and it is a fun time to stay in touch with that side of the sport, especially when I'm not doing my hardest training. It is also great to be there with my dad. The kids remind me of the fun side of the sport that is easy to forget like how much fun it is to be with teammates and to give it a hard effort and then eat some shaved ice afterward.
GCR: Now a lot of the fun becomes trying to reach your potential and, of course, that means trying to make Olympic and World Championship teams. In 2017 you qualified for your first World Championship team. What were the emotions of making your first big USA international team for a Worlds or Olympics?
JG: It was definitely a great feeling to break through to that next level. It's one of those goals where I thought about it, but it was very hard to follow through and to make a team like that. And it was crazy the way I did it to come back with a late kick. I managed to barely make it happen, but it helped me to reset the way I think about myself as a runner. It redefined my goals going forward into the future because I know that I can make a team and compete on the world stage. It was that much more exciting and validating of all the work I'm doing. I'm not just running full-time and training and doing all of this in vain. It's working toward something and it felt awesome as I work toward making another team and maybe the Olympic team. I've done it once and it isn't like anything is changing. Its not a bunch of different guys I'm racing. It is just as possible to make another team and is exciting.
GCR: When I interviewed your dad and he spoke about making his first Olympic team in 1980 but missing the Olympics because of the boycott, he wasn't too disappointed because he was only 20-years-old and figured he would just make it the next time. But he did say that he wasn't thinking about how difficult the task is. With so many good middle-distance runners in the U.S., how difficult is it to make a team when at least eight or ten very tough runners are battling for only three spots?
JG: It's tough. And it can change from year to year. In addition, the tactical racing can unfortunately take away from who is the fittest. It can come down to who is in the best position and who plays their cards right and moves at the right time. That's part of it, but it is definitely very hard to make the team. There is a ton of talent right now. I must make sure I do everything in my power to be ready for the day and to get to the starting line with the confidence I've done everything I could and that the other guys' talent doesn't matter.
Continue reading at: garycohenrunning.com