Q&A with rising U.S. Mile star Karisa Nelson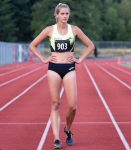 December 15, 2020
What keeps me going is the fact that there are so many more goals to achieve beyond winning a national title and that I don't think that I'm even close to my ceiling.
By Phil Patterson Jr., Heel Striker
Karisa Nelson grew up in Brewton, Alabama, a small town of only 5,200. She ran her first race when she was 8-years-old, winning her age division with a time of 26:00. This success hooked her onto running. As soon as she was old enough she joined the cross country and track team in the fifth grade. Despite that she was from a very small school and her coach was a football coach, she went on to win more than 20 state titles. This success gave her the opportunity to run at a small Division 1 college of Samford University. The first couple years at Samford she improved slowly, then her junior year she made a big jump. At the 2017 NCAA Indoor Championships, Karisa wasn't even predicted to make the Mile final, but then she came out of nowhere and won the national title with a four second personal record of 4:31. The 2017 outdoor season she finished 3rd, with the top three being within 0.1 seconds of each other. In January 2018, the year she was to defend her title, she fell down the stairs and broke her foot. This put her out for six months, and she was not able to race at all in 2018 after the fall. At the NCAA Indoor Championships in 2019 she managed to come back and just barely miss out on winning the title finishing runner-up. Although the 2019 NCAA outdoor season did not go well, she raced a 1500 at USAs finishing 8th and running a time of 4:06.1, making her the 9th fastest on the NCAA all-time list. She signed a contract with the Brooks Beast and trains in Seattle with her pro team.
After all that you accomplished, what drives you to continue running?
What keeps me going is the fact that there are so many more goals to achieve beyond winning a national title and that I don't think that I'm even close to my ceiling. There are a lot of things I could do better and I haven't had a lot of consistency to build on since I broke my foot in 2018. If one day I wake up and think "I've done everything I can to reach my full potential" maybe then I would have an issue with motivation, but I'm not even close to thinking that. I also really believe in myself, so to not to try and achieve what I believe I can would be a disservice to myself.
​How do you motivate yourself on days you don't feel like running?
I love running, but everyone has those days where they just don't want to run. I think of it like, okay, today we're just putting money in the bank. We got to build those stacks if we want to live our best life, can't have zero income that day towards meeting the goal just because I was feeling lazy. I mean, WWMJD? What would Michael Jordan do? I just watched the Last Dance, haha!
​What are your goals once things go back to normal?
Plans are to start getting some good races in with some big crowd energy! Luckily we've been able to do most of the training we need to without being in high risky situations. So being to show off all that training with a decent sized crowd to cheer us on would be great.
​What do you miss the most about competing?
What I miss the most is that either after a great race, or a bad race, having my family and friends there to hug and congratulate me. Then having a nice dinner with the team and friends or family where we can all laugh and have a good time.
​What's been the biggest lesson since turning pro?
I think there are two types of athletes: some that probably need to do a little more, and some that need to do a little less. If you're an athlete like me who fits in the category of probably needs to do a little more, do not listen to people who tell you that you don't need to work that hard! There are lots of very good, talented athletes who would tell me I don't need to take my nutrition that seriously, or I don't really need to do core. I listened and I got sloppy. So be very careful about who you are taking advice from. Just because they are a great athlete doesn't mean they have great advice.
​What has been your most memorable race to-date?
I would definitely say when I won the NCAA D1 Indoor Mile Championship in 2017. I wasn't expected to make the final, nobody knew who I was, nobody had ever heard of Samford, and in fact I was nervous my time wouldn't even qualify for the meet. But there I was. A little voice in my head was like "I believe in myself. I know I'm talented and I can achieve great things. I'm going to put myself in a position so I have a chance to win this. I just have to give myself that chance" even though my time was 7 seconds slower than the top woman. Then somehow I made it happen and I couldn't believe it. It was a feeling of immense joy that I never thought was possible to feel. I don't think I'll ever be in that state of pure bliss again, but even now just typing this I can feel the remnants of it. In fact, I'm beaming at my computer screen as I type this, haha!
What does your weight training consist of and which exercises do you feel helps your running the most?
I will say that we work on a lot of muscles besides the legs, core, good back strength and some arm strength is still important. As far as what I think helps the most, for me 3x3 of weighted squats and calf raises. The squats make me feel powerful when I run and the calf raises help strengthen my achilles because they are the root of most my injuries.
Continue reading at: heelstriker954.com