Racing to Win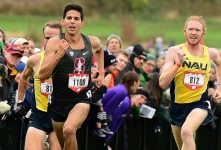 October 26, 2018
Stanford senior & high school sub-4 Miler Grant Fisher has learned a lot on The Farm
By David Kiefer, Stanford Sports
STANFORD, Calif. – As the sun begins to warm the Palo Alto Baylands, the egrets stretch their wings while the crunch of footsteps disturbs the silence, but does not faze the avocets and sandpipers wading in the mudflats.
On the worn path that curves along the tidal marshes of the San Francisco Bay shoreline, Grant Fisher and his Stanford cross country teammates are in the midst of an eight-mile progression run.
As the pace increases each Mile, the chatter stops, the breathing grows heavier, and sweat flicks off the elbows and fingers as the turnover quickens.
Fisher has come to anticipate and appreciate these workouts. The senior feels the strength gained on the Baylands trails sustains him in competition, such as Friday's Pac-12 Championships at Stanford Golf Course. Fisher will defend his title and the Cardinal men will look to repeat.
"I've always been good at the short quick stuff, but the long stuff took a long time to get used to." Fisher said. "As I've gotten older, I've gotten better at them. Now, when I can hit one of those workouts, I know that was a piece of my training I didn't have before. It shows I'm better and more confident over longer distances."
Fisher was nervous when he arrived at Stanford in the fall of 2015, despite having one of the great high school careers in history. Only two high schoolers have won two Foot Locker national cross country championships and a run a sub-4 Mile, and Fisher, out of Grand Blanc (Mich.) High, was one of them.
Continue reading at: gostanford.com