Reed Brown seeks first sub-4 minute Mile in Texas high school history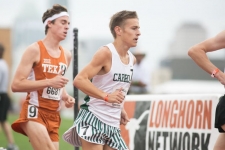 May 11, 2017
Southlake Carroll and University of Oregon bound senior invited to the upcoming adidas Boys Dream Mile and Brooks PR Invitational.
By Greg Riddle, SportsDay
SOUTHLAKE -- Southlake Carroll's Reed Brown got tips on how to become one of the fastest teenage Milers in American history from his chaperon. That just happened to be Alan Webb, the fastest Miler in U.S. history.
Brown had the 2004 Olympian supervising him at the Nike Elite Camp last July in Eugene, Ore. Webb is retired from professional track and now runs a mobile truck repair service (Elite OnSite) instead of world class times, but in 2001 he became the first American high schooler in almost 34 years to run a sub-4:00 Mile.
"We got to talk to him the whole time and learn a little bit from him about what he did in his career, how he broke four minutes," Brown said. "We tried to learn as much from him as we could. He kind of sparked the fad of going for that four-minute Mile."
Continue reading at: www.sportsday.dallasnews.com