Rio Olympians Mathews, McEntee to compete in the Mile races in Devonport & Burnie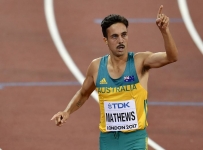 December 19, 2017
"I'm looking to use these Mile races as a stepping stone to what will be a quality 1500 meter field come Trials time."
By Alex Fair, The Advocate
The Christmas Carnivals Series will welcome two more of the big names of the Australian athletics scene in Rio Olympic middle-distance running duo Luke Mathews and Sam McEntee.
Mathews and McEntee will take part in the Mile in Devonport and Burnie, and for the former, it will be a familiar environment having competed here two years ago
"I still have a bit of unfinished business, so I'll be trying my best to get the win," Mathews said.
Shortly after that appearance in Tasmania he became the first Australian to quality for both the 800 meters and 1500 meters at the same Olympics since Pat Scammell.
The 22-year-old has had a strong 2017, including winning his 1500m heat at the IAAF World Championships in London and will end the year as Australia's fastest Miler of 2017 with a 3:54.53 set in Eugene, Orgeon.
With the Commonwealth Games Trials a matter of weeks after this year's series, Mathews said these races will form a key part of his preparation and will be coming "ready to race hard".
Continue reading at: theadvocate.com